As I mentioned in my last post, I just bought and installed new bike tires yesterday and was going to put a little information out here on the latest tire experience.
Before I get into my bike tire installation disaster, let me update you on the brands and misc. stats that I have on the tires that I have had on my Trek 1500 road bike so far.
Keep in mind that I usually put a lot of miles on my bike tires before I change them (they are usually bald or damaged before I change them (I guess I like to get my moneys worth)).
I don't actually remember what brand the original tires were that came on the bike new (I didn't write it down!) but I do have the dates and miles. The original tires that came on my bike lasted for 2 years and 3 months and made it 3,719 miles.
The next set of tires that I bought for my bike were Bontrager Race Light Hard Case – 700x28c. These tires cost me $80 for the pair (back in July, 2008), lasted for 3 years and 2 months and made it 4,907 miles!
I don't think that I ever had a flat with these tires. There is writing on the tires that says "Triple Puncture Protection" and I guess it was legit!
The reason that I just changed these tires is because they were basically falling apart (some of the rubber was comming off and you could see the material underneath!) and I am planning a fairly long bike trip up to the 400 Trail in Wisconsin next week.
FYI: If you are wondering how I know all this specific information, it's because I am kind of a data junkie in some ways (like with my bike stuff). I have kept my bike mileage records and stats since about 1997 (now in a spreadsheet) and I have the receipts for all of my bike parts and accessories which are also now in a spreadsheet. (I think that I included some of my bike computer stats on our Bike Computers page too).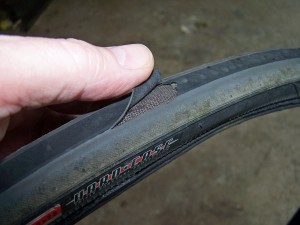 OK, back to the new tires. When I went to my LBS (Mike's Bike Shop, in Palatine), I looked at a few different brands and The Continental Ultra Sport– 700x25c were quite a bit cheaper than the other brands that I looked at and the guys in the bike shop told me that they had better experiences with Continental tires than with Bontrager (so they kind of talked me into them).
So I bought the Continental Ultra Sport Tires for $48 a pair and went home to put them on my bike. I hate changing tires but I managed to get the front tire on pretty fast and easy (that was a relief). Then I moved on to the back tire.
I got the old one off with no problem and got a good start on installing the new tire. This is where the disaster begins. I must have spent 30 to 45 minutes trying to get this tire on the rim and my hands and thumbs were so sore I thought that I might be doing permanent damage! I even resorted to trying some dull tools (like they say not to) to try to get the tire on. Still no luck.
So out of total frustration, I took the partially installed tire back to the bike shop to see if these experienced bike mechanics had some tricks or better tools to get difficult tires on with.
Well, they told me that they do not use tools to install the new tires (it's just done by hand) but some are just way more difficult than others. I have changed many tires over the years and have always been able to get the job done (until now).
The other thing that they mentioned was the the combination of Bontrager rims (which I have on my Trek) and Continental tires can be a very difficult combination. Now they tell me! (don't get me wrong about Mike's Bike Shop because I have gone there for years and they have always been really helpful).
Well, the guy at the LBS struggled quite a bit but he was more experienced than I was and was able to get the new tire installed after a while but it was not easy for him either.
Well, I can't give you the stats on the Continental Tires yet, of course, but I'm sure I'll keep my records and spreadsheets and might be able to blog about how long they lasted when I finally get around to a new set (if I still have the same bike).
As I was writing this blog post, I just discovered that we do not have a "Bike Tires (or tubes)" page on this site. I am going to have to change that. I do know that there is a good selection of tires and tubes online at Performance Bike and I have some good links there from our Bike Accessories and Equipment page.